The list of 22,000 jihadists published by Sky News is now online.
To participate in the war effort, Nordpresse decided to publish the names of 22,000 jihadists of the Islamic state that have been identified by a dissident jihadist. This register, containing more than 20,000 names, aired this morning on the website of Sky News.
Le voici.
Anne Dixon
Austin Chambers
Joey Barnes
Chris Hodges
Jackie Greer
Roy Copeland
Wanda Jackson
Hugo Gross
Jimmie Mack
Hannah Rowe
Ramona May
Donna Moss
Josephine Holt
Vickie Bowen
Kathleen Floyd
Luke Drake
Vicki Allison
Rita Kelly
Daisy Ward
Georgia Mckinney
Dolores Page
Terry Weaver
Alonzo Chapman
Cameron Kelley
Tracy Willis
Ernestine Simpson
Eva Brewer
Adrian Walker
Faye Todd
Shelly Holland
Valerie Martinez
Claude Frazier
Dewey Fleming
Terri Hanson
Antonia Gibbs
June Norton
Marion Farmer
Jana Burgess
Terence Mcdaniel
Marie Carpenter
Velma Ruiz
Mamie Jacobs
Delbert Davidson
Kathy Powers
Aubrey Burton
Carl Graham
Ada Summers
Iris Hansen
Joan Becker
Tim Johnston
Toni Fowler
Marlene Thornton
Brenda Wright
Julie Wheeler
Nathan Mathis
Phil Manning
Sherman Leonard
Allen Townsend
Alfred Rivera
Marianne Malone
Archie Clayton
Seth Weber
Crystal Blair
Mabel Warren
Darren Sherman
Edward Porter
Perry Santos
Rosemarie Armstrong
Javier Harvey
Mindy Black
Edna Collier
Kay Carroll
Clara Joseph
Garry Lambert
Jeannie Webb
Matt Mendez
Darnell Saunders
Nina Fitzgerald
Daryl Tucker
Alfredo Hawkins
Malcolm Green
Johnny Diaz
Ted Buchanan
Carol James
Marta Castillo
Beatrice Hunter
Katherine Brooks
Leon Riley
Tammy Scott
Sue Arnold
Sean Soto
Carroll Roy
Taylor Walton
Dale Gregory
Shaun Griffin
Betty Meyer
Marion Butler
David Parsons
Lorene Mccarthy
Christopher Hayes
Dominick Little
Carlton Benson
Ervin Romero
Candace Mills
Miriam Delgado
Brandy Moss
Alison Mathis
Jackie Brock
Kelly Hubbard
Edgar Gomez
Conrad Fuller
Gregg Waters
Mathew Morales
Elsa Franklin
Jaime Fleming
Delores Gardner
Jeffrey Stokes
Leland French
Sonia Cummings
Mabel Leonard
Domingo Henry
Bertha Strickland
Molly Bennett
Latoya Garcia
Dwayne Tate
Olive Morgan
Natasha Patton
Elijah Simpson
Debbie Long
Otis Horton
Manuel Poole
Ollie Hunter
Rolando Craig
Jody Reyes
Ellsworth Kozlowski
Rickie Andre
Rhett Purdy
Bud Bain
Andrea Tinsley
Winfred Clemmons
Weldon Werner
Gaston Duran
Antonia Thorpe
Wyatt Dailey
Kermit Tom
Mikel Perreault
Bryon Seymour
Delmer Titus
Clair Renfro
Everette Casteel
Man Barrow
Oren Orosco
Ty Rollins
Irwin Groce
Danilo Woo
Les Crowe
Hunter Seaton
Dorian Cameron
Douglass Denney
Ernie Welker
Shirley East
August Lantz
Jamaal Starling
Armand Pagan
Rosendo Lester
Rico Finn
Maximo Apodaca
Jonas Sawyer
Gonzalo Leary
Markus Lerma
Jeramy Castle
Kennith Webber
Dewitt Mooney
Kasey Lin
Sandy Wooten
Josef Vickers
Coleman Hauser
Michale Lachance
Moshe Olivo
Mckinley Neville
Randell Crespo
Sang Harley
Junior Cordell
Silas Marcotte
Osvaldo Westfall
Jefferey Gunter
Minh Brower
Mary Carney
Richie Farrow
Eliseo Burkett
Vincenzo Salley
Marlin Bedford
Willian Kimble
Xavier Purvis
Erich Keene
Landon Alba
Hobert Hastings
Garfield Ruth
Napoleon Gilman
Darwin Willett
Emery Sparrow
Burt Hennessey
Emerson Barnette
Rocky Mcginnis
Franklyn Le
Augustine Mahoney
Teodoro Crist
Linwood Hostetler
Rolland Durr
Royce Schott
Porter Penny
Gavin Tovar
Jere Grover
Otto Sikes
Brice Leak
Dion Portillo
Hai Lindgren
Chase Markley
Paris Elrod
Connie Berman
Kenton Rapp
Jude Bradbury
Antwan Hughey
Fidel Conners
Solomon Whitehurst
Lane Negron
Freeman Fajardo
Quincy Lavender
Vaughn Espinoza
Val Kirk
Branden Silver
Ward Baptiste
Russel Espino
Jewel Farias
Teddy Smalls
Malcom Dupont
Bertram Lehmann
Elroy Fulton
Diego Bragg
Ulysses Morse
Hassan Shuler
Lincoln Geer
Rey Ferrell
Shon Treadway
Alvaro Hargis
Tyrell Macklin
Long Lorenz
Alva Toro
Mel Bynum
Jeromy Milne
Darron Ogden
Rudolf Cabrera
Leigh Ojeda
Robby Hite
Eddy Hong
Granville Castleberry
Logan Zeigler
Noe Chance
Chang Elmore
Tracey Vance
Lyndon Nagel
Dylan Pullen
Jerrod Correa
Dusty Purnell
Carol Gallant
Dante Norfleet
Heath Kimball
Mohammad Lord
Dannie Wing
Lindsay Herrick
Merrill Sides
Lou Lively
Cletus Burks
Scotty Lancaster
Norris Humphreys
Vito Kyle
Adolph Atherton
Tyree Dias
Elliott Branson
Jospeh Singletary
Chet Sutherland
Faustino Madden
Graig Dietrich
Abdul Tabor
German Barnard
Elden Cade
Bryce Fitzsimmons
Cleveland Tang
Brant Fontenot
Robbie Gaylord
Billie Sheppard
Carmen Chesser
Devon Gunn
Rubin Wilhelm
Marquis Keith
Jewell Correia
Odis Eagle
Wilford Dempsey
Jame Michaud
Lenard Manns
Fermin Byrne
Kelley Saucedo
Marcellus Florez
Cole Meacham
Damion Fahey
Olin Parnell
Rocco Mcnally
Leonel Wyman
Felton Bergeron
Gail Demers
Zachery Mcpherson
Chas Spurlock
Bradly Her
Chuck Goddard
Tyron Rife
Sol Archie
Moises Birch
Hipolito Bullard
Rob Burchett
Lauren Moya
Stephan Cheng
Rod Negrete
Stanford Vinson
Margarito Van
Maynard Grace
Loyd Gaffney
Claudio Nickerson
Erwin Blackman
Miquel Wilbanks
Adolfo Orlando
Louie Alley
Jefferson Herndon
Robt Reddy
Olen Cornett
Cliff Loyd
Graham Craft
Luciano Causey
Sherwood Thorne
Gaylord Free
Rueben Hawley
Earle Saxton
Jonah Madsen
Dewayne Travers
Jarod Carder
Esteban Bobbitt
Nathanial Chestnut
Stacy Reinhardt
Filiberto Segura
Elvin Killian
Johnie Kaufman
Denny Mireles
Waylon Desimone
Rich Stauffer
Kip Timm
Valentin Frick
Nickolas Farris
Hiram Spears
Erasmo Loving
Burl Pritchard
Nigel Weldon
Ahmad Mcadams
Dominique Rowan
Scot Stafford
Monte Stuckey
Fausto Arreola
Leandro Trammell
Chance Huggins
Adalberto Mull
Bret Thacker
Coy Thao
Thaddeus Yu
Wally Prosser
Dee Hackett
Kory Hare
Michel Saucier
Lucius Goss
Korey Riddle
Milo Reardon
Titus Wiley
Isreal Mullis
Arnoldo Tan
Mohammed Cody
Marcel Dorman
Hilton Holbrook
Len Beckett
Quinton Hay
Oswaldo Bliss
Raymundo Abernathy
Reynaldo Chapin
Cyril Whitman
Kendall Steffen
Rusty Golden
Kareem Mulligan
Tyson Hyde
Herschel Headley
Leopoldo Omalley
Millard Scarbrough
Clemente Bostick
Jed Kruger
Romeo See
Benton Barry
Jarrett Ly
Carlo Sales
Harley Pulliam
Rodrick Toledo
Bennett Arriaga
Brady Casillas
Newton Glynn
Maria Clements
Rodger Weiss
Gayle Jamison
Lon Land
Valentine Fain
Deangelo Wetzel
Lucien Silverman
Ethan Mcnamara
Arden Jaynes
Edgardo Putnam
Sung Farrington
Lenny Janssen
Aldo Whatley
Joaquin Jewell
Cyrus Galvin
Chung Hass
Mose Oreilly
Tuan Varney
Quinn Brewster
Antone Sears
Wilber Hooker
Deon Saavedra
Gus Dotson
Maxwell Kowalski
Lupe Leyva
Ollie Downs
Keenan Neff
Anibal Atwell
Parker Dowd
Jerold Kovach
Lemuel Cope
Brock Haight
Noble Olivarez
Jae Bunch
Sebastian Thomsen
Sterling Schubert
Jarred Helm
Dane Coward
Jayson Brice
Ivory Keys
Hilario Cousins
Hung Ashmore
Claud Benoit
Jarvis Duval
Erin Burney
Arlen Leblanc
Miles Mccall
Rupert Crittenden
Jasper Ripley
Buford Draper
Dick Ott
Seymour Snowden
Gerry Boudreau
Whitney Wolff
Joesph Finney
Bobbie Whitt
Weston Spooner
Garland Mcdaniels
Colby Willard
Gino Frantz
Merlin Behrens
Lucio Hickey
Isidro Pendleton
Giuseppe Trimble
Tanner Dahl
Edison Vanhoose
Michal Schulte
Young Southard
Darius Guinn
Trent Darnell
Cristopher Grove
Jarrod Baylor
Arlie Guy
Jackson Clegg
Kirby Antoine
Reuben Wingfield
Emory Feliciano
Laverne Abney
Murray Brockman
Eli Worden
Britt Travis
Elvis Duarte
King Graf
Charley Friend
Dalton Battle
Agustin Small
Antione Pringle
Stan Story
Kris Swain
Galen Tobin
Zane Maguire
Otha Dubois
Alphonso Merritt
Denis Council
Dillon Cecil
Brendon Venable
Nestor Shepard
Malik Colbert
Wilmer Steward
Kurtis Kenney
Ronny Anglin
Emil Solomon
Trenton Saenz
Art Gresham
Dudley Vanhorn
Thad Doty
Dario Muir
Antony Epperson
Eugenio Reyna
Prince Slaughter
Florencio Tidwell
Alphonse Mckeever
Elliot Vidal
Carter Singer
Von Zaragoza
Vicente Paulsen
Sanford Pickard
Winford Hess
Ned Royster
Shelton Ervin
Morgan Perrin
Andreas Veal
Jc Jeffery
Tad Stanton
Numbers Mccloskey
Waldo Laster
Barton Cave
Berry Gunderson
Russ Robert
Antoine Linton
Rosario Churchill
Clement Peterman
Norbert Rainey
Porfirio Oneil
Monty Hutchens
Lino Wheaton
Jeffry Kirby
Blair Stahl
Ike Mcconnell
Foster Hurt
Francesco Sperry
Jordon Havens
Theron Mcallister
Trinidad Dent
Sydney Mark
Fredric Bowlin
Amado Cranford
Hans Lavigne
Reyes Kitchens
Adan Pogue
Vance Rosser
Werner Stallings
Elisha Herr
Stevie Cornelius
Anderson Coats
Refugio Wellman
Bart Forrest
Ezequiel Hitchcock
Ambrose Jean
Wes Kimbrough
Heriberto Florence
Ariel Petit
Efren Dykes
Derick Cavazos
Donnell Ratcliff
Jamison German
Issac Cartwright
Shayne Reeder
Nicky Gilliland
Harlan Traylor
Zack Nance
Santo Ashby
Shelby Ginn
Walker Bolduc
Harrison Fortin
Chong Ives
Gregorio Blalock
Bernie Cloud
Aurelio Singh
Alec Picard
Jacinto Kidd
Manual Fite
Emmitt Wagoner
Damian Vaught
Boris Beverly
Mauro Seymore
Shad Whittaker
Judson Blaine
Sonny Mclendon
Milford Clawson
Delmar Boling
Geraldo Laplante
Isaias Quintana
Tory Hardin
Carmine Staples
Carmelo Ahmed
Norberto Temple
Giovanni Lacroix
Bernardo Obryan
Deshawn Parham
Genaro Richie
Arnulfo Pepper
Monroe Dowdy
Orval Belanger
Omer Davies
Hong Mosby
Dirk Ault
Gale Ham
Brenton Spradlin
Herb Choate
Elwood Rawlins
Reid Christman
Theo Rains
Federico Mayer
Gil Yeager
Fabian Wilmoth
Mariano Button
Raphael Blank
Avery Dancy
Demetrius Seiler
Major Raley
Lonny Mabry
Kendrick Weeks
Leif Flannery
Daron Briseno
Wilburn Manuel
Antonio Hogan
Sheldon Huff
Shawn Nichols
Antonia Paul
Jeannette Maldonado
Edna Thornton
Jon Yates
Eddie Lamb
Lynn Barber
Micheal Powers
Gertrude Carr
Carla Peters
Irvin Wade
Ronald Manning
Essie Rice
Ismael Blair
Geneva Figueroa
Elizabeth Cooper
Doyle Watson
Vernon Byrd
Charlotte Stephens
Evan Clarke
Jackie Watkins
Jan Ruiz
Dominic Martinez
Nancy Vega
Antoinette Saunders
Nick Stewart
Tara Daniel
Benjamin Schneider
Greg Haynes
Jerald Carter
Billie Houston
Jan Mccarthy
Marco Price
Angelica Wagner
Norma Hardy
Debra Casey
Bobby Day
Sherri Jensen
Carole Turner
Kathleen Barton
Ernesto Moore
Tracey Evans
Mike Perry
Dexter Warner
Andy Banks
Claudia Becker
Guadalupe Flowers
Beverly Morrison
Anthony Rodriguez
Owen Padilla
Annie Crawford
Kristy Cortez
Cedric Castillo
Jaime Hanson
Barbara Reed
Ruth Davis
Cesar Baker
Melanie Ortega
Rosemarie Moran
Francis Johnson
Kristi Tyler
Craig Farmer
Geraldine Kelly
Cary Garrett
Nina Phillips
Kate Vaughn
Tomas Park
Annie Burton
Jamie Stokes
Terence Hodges
Jonathon Sparks
Ada Cole
Loretta Bowman
Geneva Vasquez
Danny Stephens
Roderick Lawrence
Ramon Johnson
Preston Russell
Tommie Cross
Vernon Morrison
Rhonda Lyons
Janet James
Judy Rivera
Stanley Torres
Hazel Curtis
Josephine Pena
Lorene Christensen
Lillie Curry
Carl Thomas
Oscar Scott
Otis Davis
Andrea Briggs
Lloyd Clark
Agnes Lane
Earnest Harmon
Kari Sutton
Harry Roberts
Terrence Gibson
Erik Banks
Timothy Jones
Ramona Guzman
Ricardo Peterson
Jared Bailey
Mitchell Warren
Corey Burke
Earl Santiago
Lucia Glover
Theresa Payne
Ian Adams
Dexter Saunders
Yvette Rice
Donnie Gross
Cody Romero
Renee Poole
Everett Goodwin
Amber Black
Erma Murray
Leonard Delgado
Salvatore Parks
Betty Murphy
Stacey Nguyen
Miranda Morales
Alan Owens
Audrey Harrison
Jerome Porter
Dallas Flores
Helen Bates
Paulette Klein
Gayle Jensen
Carrie Joseph
Michele Campbell
Lorraine Lambert
Vicki Wheeler
Levi Moody
Hugo Wise
Grady Hubbard
Ollie Greene
Fred Rhodes
Jennifer Walton
Franklin Medina
Marvin Kelley
Derek Blair
Manuel Hogan
Mario Buchanan
Ray Harris
Robin Terry
Paul Gonzales
Emma Collins
Sophia Barton
Lewis Moran
Glenn Dean
Celia Silva
Ruth Edwards
Ira White
Robin Summers
Elisa Hunt
Mona Malone
Amos Fox
Lowell Hopkins
Arlene Palmer
Sabrina Lee
Traci Bowers
Lula Tran
Maxine French
Wm Mathis
Brooke Montgomery
Jeremy Brewer
Forrest Bradley
Nettie Barrett
Drew Gray
Martin Hanson
Reginald Logan
Madeline Willis
Eleanor Richards
Tommy Cortez
Ivan Mitchell
Estelle Mann
Herbert Gonzalez
Kelli Horton
Raymond Douglas
Lena Chavez
Rosemarie Townsend
Erica Coleman
Marianne Wong
Patsy Patton
Stephanie Jackson
Billy Phelps
Allan Norton
Laverne Allen
Van Martin
Shannon Bowen
Priscilla Hall
Carolyn Ray
Lance Oliver
Isaac Butler
Joann Stewart
Luis Mason
Roosevelt Mcdaniel
Benjamin Crawford
Tyler Jenkins
Fernando Robertson
Matt Sims
Evelyn Bridges
Jackie Gutierrez
Terry Cannon
Melody Gilbert
Casey Mills
Jenny Singleton
Adrienne Dixon
Clyde Robbins
May Soto
Sandra Barker
Dominic Harper
Terri Wilson
Geoffrey Foster
Gary Simpson
Daryl Watson
Antonio Gardner
Grant Page
Marlon Alvarado
Virginia Graham
Bernadette Valdez
Gilbert Dunn
Winston Adkins
Pauline Martinez
Amanda Harvey
Deborah Nunez
Janice Moss
Jan Armstrong
Eva Cunningham
Hubert Lloyd
Viola Burgess
Sheldon Schmidt
Judith Ballard
Cory Pierce
Lola Mullins
Nathan Casey
Emanuel Freeman
Maggie Garcia
Whitney Ramos
Austin Mcgee
Noah Brady
Dorothy Higgins
Marcos Gomez
Mae Fleming
Olivia Cook
Ruben Frazier
Lawrence Walker
Clarence Gregory
Donald Woods
Lydia Holmes
Cecelia Underwood
Antonia Pittman
Catherine Hawkins
Floyd Fuller
Myrtle Holloway
Wendell Holt
Nancy Shelton
Marcus Quinn
Claire Yates
Angela Ramsey
Dustin Walters
Santiago Ingram
Kayla Dennis
Ethel Rodriguez
Valerie Becker
Gordon Gibbs
Mathew Copeland
Rodney Davidson
Taylor Wade
Pablo Cobb
Faith Knight
Brandi Tate
Brian Colon
Jana Schneider
Clint Rose
Shelly Sherman
Rosa Burns
Eloise Marsh
Jeannette Patterson
Janie Ortega
Nicolas Welch
Jonathan Guerrero
Clifton Weber
Roger Bishop
Myra Owen
Diana Gordon
Johnathan Cohen
Thelma Fletcher
Dixie Fitzgerald
Tonya Hayes
Marco Mccarthy
Matthew Patrick
Claudia Vargas
Perry Ball
Darlene Dawson
Elbert Pratt
Cedric Young
Harriet Rowe
Molly Munoz
Jane Ellis
Annette Baker
Jimmy Fernandez
Amelia Graves
Andrew Drake
Samantha Hammond
Santos Hansen
Guadalupe Hill
Al Griffith
Belinda Lamb
Jamie Rios
Lindsay Meyer
Alberto Roy
Kristina Williamson
Wayne Washington
Regina Greer
Orville Henry
Ellen Simon
Harvey Wilkerson
Evan Benson
Christine Marshall
Henry Stone
Tyrone Wells
Karla Ferguson
Blanca Barber
Tim Alvarez
Kristopher Osborne
Gilberto Perkins
Courtney Hardy
Christie Mcguire
Kyle Perez
Courtney Bass
Irvin Bennett
Francis Vega
Shari Roberson
Beulah Rodriquez
Tara Berry
Alicia Aguilar
Conrad Tucker
Sylvia Sharp
Jeff Jordan
Theodore Ross
Sherman Powell
Sean Conner
Laurie Clarke
Denise Herrera
Raquel Lucas
Arthur Blake
Rafael Brooks
Lori Wright
Johnny Webb
Irving Moore
Roland Parker
Felix Evans
Jaime Andrews
Holly Ortiz
Walter Massey
Colin Lowe
Victoria Newman
Vera Mack
Carlos Chambers
Angel Lawson
Jesse Robinson
Stewart Paul
Irene Padilla
Mercedes Wagner
Darrin Myers
Barbara Stanley
Clay Hernandez
Ida Fields
Katie Barnes
Amy Wallace
Noel Holland
Beth Castillo
Alvin Turner
Ken Pearson
Joel Green
Edith Price
Lillian Farmer
Ervin Mccoy
Winifred George
Steven Mckenzie
Leticia Carroll
Randall Peters
Angelica Ryan
Veronica Elliott
Candace Tyler
Brenda Francis
Roman Salazar
Wilson Cummings
Roberta Daniel
Ellis Kennedy
Darin Hughes
Rene Houston
Fredrick Cruz
Andres Perry
Cameron Stevenson
Patti Doyle
Inez King
Adrian Kim
Lucas Miller
Gloria Reid
Carol Caldwell
Tiffany Santos
Alexandra Miles
Connie Mccormick
Terry Ward
Tanya Floyd
Anita Warner
Tricia Hudson
Anne Austin
Jean Alexander
Byron Morris
Darrell Watkins
Christopher Nelson
Sharon Gill
Ignacio Matthews
Justin Craig
Phyllis Steele
Leona Chapman
Larry Fowler
Ruby Manning
Susie Richardson
Gwendolyn Beck
Alex Mckinney
Elias Cain
Ernest Maxwell
Stuart May
Teri Hines
Elena Jefferson
Leroy Nash
Mack Baldwin
Christina Ford
Andy Smith
Francis Olson
Dave Carlson
Roxanne Potter
Aaron Collier
Paula Boyd
Gene Schwartz
Gertrude Morton
Elijah Waters
Victor Chandler
Alice Carpenter
Shelley Fisher
Jerald Sandoval
Jeanette Parsons
Thomas Mcbride
Nelson Todd
Edwin Little
Dana Cox
Lynn Bell
Kenny Franklin
Glen Carr
Lauren Rogers
Rolando Norman
Rudolph Ruiz
Percy Haynes
Kelvin Reynolds
Sheri Williams
Kim Howard
Tami Carson
Katrina Thompson
Kara Keller
Scott Simmons
Sally Long
Wesley Strickland
Wendy Lindsey
Tasha Bryant
Becky Hart
Willie Erickson
Eduardo Brown
Desiree Leonard
Richard Brock
Kurt Lopez
Dawn Grant
Johnnie Wood
Owen Barnett
Brent Estrada
Alexis Schultz
Cristina Maldonado
Michael Garner
Darryl Hunter
Greg Boone
Lyle Abbott
Ryan Lynch
Terrance Love
Robert Mclaughlin
Irma Clayton
Lynda Carter
Mary Hoffman
Naomi Lewis
Jeffery Diaz
Jordan Sanders
Josefina Thornton
Edna Spencer
Milton Howell
Elmer Watts
Abel Rodgers
Arnold Daniels
Terrell Hale
Roberto Frank
Bethany Weaver
Essie Reese
Ronnie Reyes
Bruce Sanchez
Joan Walsh
Edward Stevens
Tammy Luna
Douglas Hamilton
Charlene West
Freddie Bryan
Rudy Obrien
Angelina Wolfe
Calvin Day
Dora Johnston
Kimberly Jacobs
Camille Kelly
Dewey Sullivan
Ebony Huff
Cesar Jennings
Marc Wilkins
Zachary Larson
Carmen Ramirez
George Reeves
Vivian Shaw
Israel Taylor
Iris Mendoza
Jessica Norris
Heidi Jimenez
Marta Nichols
Susan Newton
Clinton Snyder
Opal Neal
Caroline Byrd
Oliver Arnold
Sherry Castro
Norman Reed
Leslie Zimmerman
Timmy Cooper
Willie Mendez
Rex Webster
Carlton Garza
Dianna Goodman
Lucy Moreno
Guadalupe Mcdonald
Kirk Anderson
Marion Hicks
Leon Figueroa
Mark Swanson
Patrick Hampton
Laurence Bush
Peter Duncan
Crystal Harrington
Alma Riley
Lynette Morgan
Dianne Pope
Joanna Griffin
Rachael Allison
Sonja Flowers
Bryant Powers
Heather Henderson
Sandy
Rick Bowers
Beulah Buchanan
Jerry Tran
Mark Simpson
Tara Gardner
Clarence Carter
Vincent Hawkins
Preston Quinn
Allan Ruiz
Johnny Moran
Jordan Park
Devin Davidson
Kara Burton
Orlando Stevenson
Elmer Roberts
Alison Robinson
Willie Hale
Anne Carr
Jackie Leonard
Chad Tate
Alexander Powell
Renee Guzman
Estelle Garza
Hazel Wells
Hugh Matthews
Doyle Cummings
Amanda Green
Josh Terry
Glenda Barrett
Warren Brock
Eduardo Houston
Wilbert Cooper
Santos Wagner
Earnest Hopkins
Frankie Bates
Tracy Sharp
Elvira Warner
Jean Adams
Jana Hammond
Peter Johnston
Gertrude Reese
Kelley Carson
Sergio Kelley
Lynn Potter
Jaime Martinez
Harvey Curry
Sylvester Owens
Willard Silva
John Copeland
Sammy Harrington
Joy Elliott
Kristin Newman
Terence Kim
Barry Saunders
Virginia Perry
Leo Becker
Erik Hunt
Suzanne Logan
Tasha Rios
Elsie Colon
Shawn Murray
Ollie Rivera
Claude Barker
Jeanette Bell
Candice Cook
Bradford Wilkins
Kristine Garcia
Yolanda Black
Delbert Mcguire
Lindsay Vargas
Stuart Nash
Guadalupe Fields
Kelli Hoffman
Rodney Summers
Florence Hines
Christine Stokes
Sheri Collins
Blanche Alvarez
Julio Swanson
Jasmine Powers
Andres Boyd
Joanne Payne
Juana Price
Horace Bailey
Stacey Harper
Randall Howell
Tricia Meyer
Shane Washington
Gwen Dunn
Richard Baker
Angelina Lawrence
Arnold Wolfe
Latoya Oliver
Patsy Olson
Loretta Thompson
Cassandra Curtis
Irving Alvarado
Ginger Poole
Don Norris
Julie Perez
Flora Jordan
Molly Doyle
Leigh Casey
Darryl Briggs
Carroll Goodwin
Herman Walters
Johanna Greer
Cesar Mcdonald
Laurie Bishop
Rudy Bush
Katherine Ingram
Cindy Zimmerman
Tyler Jimenez
Camille Lynch
Rolando Patrick
Alex Nunez
Ethel Austin
Derrick Parsons
Malcolm Shelton
Erick Palmer
Jack Hampton
Traci Watson
Connie Mills
Marion May
Boyd Klein
Anna Drake
Kristina Morrison
Ebony Ford
Woodrow Chandler
Colleen Munoz
Patricia Day
Brandy Lee
Victoria Weaver
Carrie Ortega
Billy Ellis
Garrett Chambers
Arlene Stewart
Casey Freeman
Dwayne Stanley
Benjamin Parks
Lori Harmon
Rex Moss
Raquel Brooks
April Stone
Dave Neal
Edmund Burke
Gabriel Flores
Brendan Fernandez
Agnes Cobb
Erin Mullins
Kay Todd
Kyle Hamilton
Marty Carlson
Patrick Bradley
Jimmie Flowers
Lucas Strickland
Cheryl Ramos
Jessie Mckenzie
Alonzo Ramsey
Luis Chapman
Jacqueline Nguyen
Krystal Andrews
Bernice Blake
Edgar Walsh
Vicky Griffith
Paula James
Francis Rowe
Thelma Schwartz
Dwight Daniels
Angelo Warren
Aaron French
Dawn Lawson
Geraldine Ortiz
Miranda Owen
Fannie Hayes
Lawrence Farmer
Roger Malone
Jorge Lindsey
Olivia Richards
Conrad Harvey
Kelvin Thomas
Deanna Douglas
Anthony Jones
Laverne Moreno
Adrienne Griffin
Gerard Fletcher
Delia Simmons
Loren Roy
Jill Mcgee
Jeff Riley
Jay Holloway
Leroy Bass
Brett Barber
Eric Horton
Elizabeth Jefferson
Rogelio Knight
Lorenzo Holland
Bill Singleton
Miguel Erickson
Betty Townsend
Francisco Scott
Kristi Sims
Monique Holmes
Philip Wright
Sabrina Torres
Greg Steele
Isabel Lamb
Lola Medina
Lillian Gomez
Amos Mcdaniel
Lela Mendoza
Joe Santiago
Shawna Garner
Sam Webb
Robyn Watts
Sophia Hernandez
Judith Keller
Marie Reeves
Ellis Miller
Violet Cain
Ryan Arnold
Kim Shaw
Edith Ramirez
Mack Lyons
Elijah Wheeler
Danielle Rodriguez
Dana Norton
Bryant Goodman
Tina Mccarthy
Linda Crawford
Clyde White
Jimmy Harrison
Rochelle Lambert
Stephen Robertson
Israel Moore
Dan Taylor
Irma Cruz
Jeannette Clayton
David Larson
Tamara Gonzales
Blanca Padilla
Ignacio Francis
Gladys Jenkins
Kerry Parker
Salvatore Mckinney
Ramona Mendez
Maggie Bowman
Frank Adkins
Marco Fuller
Sonia Nichols
Hector Gilbert
Rhonda Wilkerson
Raymond Patterson
Al Cross
Vivian Wade
Maryann Franklin
Jermaine Schultz
Mindy Maxwell
Miriam Luna
Gretchen Gibson
Neal Lewis
Roberto Waters
Ida Sandoval
Nicholas Romero
Dustin Pearson
Drew Gregory
Terrell Allen
Eula Sherman
Damon Herrera
Russell Armstrong
Veronica Haynes
Whitney Hogan
Saul Baldwin
Kayla Barnett
Freda Smith
Luz Norman
Ana Turner
Ross Mccoy
Francis Rodriquez
Elbert Bowen
Nora Conner
Rebecca Santos
Jason Huff
Amelia Obrien
Byron Graves
Johnathan Carpenter
Ed Peterson
Naomi Moody
Lena Vaughn
James Mclaughlin
Clint Patton
Megan Pratt
Stephanie Howard
Josefina Newton
Carmen Benson
Robin Greene
Shelia Martin
Dallas Delgado
Simon Ferguson
Alfonso Harris
Phyllis Pittman
Dianne Mccormick
Floyd Ballard
Johnnie Wallace
Jonathan Garrett
Andrea Fowler
Maureen Fleming
Brandon Daniel
Jonathon Little
Victor Jacobs
Regina Mann
Marlene Hanson
Terry Wong
Lynne West
Abel Bryant
Jessie Tucker
Grady Stephens
Muriel Gray
Arturo Dean
Gina Ball
Evelyn Beck
Cynthia Mitchell
Gwendolyn Mason
Tracy Hardy
Margaret Holt
Monica Sanders
Nicole Myers
Janie Dawson
Faith Hodges
Kate Evans
Leonard Hudson
Doris Pope
Felicia Gonzalez
Harriet Johnson
Luke Watkins
Bonnie Higgins
Courtney Williams
Wade Love
Kerry Gutierrez
Luther Massey
Lester Diaz
Gene Byrd
Jan Castro
Bruce Gross
Virgil Lowe
Charlotte Wood
Caroline Hubbard
Gayle Morris
Chester Russell
Geneva Cannon
Jamie Pena
Vicki Kelly
Joseph Cox
Shirley Salazar
Roman Henry
Paul Yates
Elsa George
Jody Hart
Elisa Blair
Dianna Boone
Garry Alexander
Alberto Sutton
Jeremy Phillips
Amber Ray
Bob Jennings
Katie Stevens
Erika Graham
Katrina Frank
Guy Ross
Brenda Rice
Howard King
Alvin Burns
Corey Davis
Dolores Walker
Terrence Marshall
Courtney Abbott
Alyssa Sullivan
Robert Floyd
Ellen Woods
Darlene Brown
Melinda Hughes
Nick Roberson
Salvador Fox
Glen Morales
Carolyn Coleman
Julia Paul
Mae Grant
Diana Clarke
Claudia Schmidt
Ben Walton
Maurice Simon
Curtis Brewer
Marshall Figueroa
Antoinette Spencer
Jeannie Henderson
Phillip Nelson
Anita Rogers
Dominick Underwood
Cristina Bridges
Kelly Mcbride
Natalie Young
Wesley Hansen
Jenna Osborne
Lauren Welch
Tanya Webster
Vanessa Maldonado
Clifford Rose
Leticia Vasquez
Clayton Cohen
Kathleen Bryan
Cary Williamson
Kellie Edwards
Dominic Mack
Alan Bennett
Lowell Perkins
Shaun Ward
Marguerite Dennis
Jackie Allison
Toby Lane
Brad Reynolds
Winston Fitzgerald
Ira Lopez
Nellie Craig
Doug Dixon
Ron Barton
Angelica Hicks
Neil Tyler
Kirk Lucas
Armando Banks
Marcus Marsh
Rosalie Page
Nathaniel Brady
Marianne Wise
Amy Pierce
Earl Collier
Christina Cunningham
Leon Robbins
Lisa Christensen
Lee Snyder
Samantha Carroll
Misty Gibbs
Pearl Miles
Emanuel Morgan
Clark Gill
Domingo Sparks
Danny Sanchez
Christian Jackson
Shannon Murphy
Archie Reed
Erma Clark
Gail Duncan
Trevor Caldwell
Marta Estrada
Rachel Foster
Diane Valdez
Roland Burgess
Derek Reyes
Percy Long
Nelson Kennedy
Leland Campbell
Jessica Gordon
Annie Phelps
Dorothy Chavez
Wendy Berry
Reginald Thornton
Jerome Guerrero
Timothy Frazier
Roberta Manning
Gregory Mathis
Tomas Rodgers
Vera Soto
Alfred Aguilar
Mona Anderson
Ernest Hunter
Tabitha Hall
Mable Wilson
Dexter Peters
Hannah Weber
Karla Fisher
Jacob Rhodes
Roderick Ryan
Henry Vega
Cecilia Barnes
Donna Schneider
Pat Morton
Lorena Lloyd
Erica Glover
Alice Porter
Kristen Butler
Pete Montgomery
Rodolfo Richardson
Ora Castillo
Larry Cole
Adam Willis
Levi Cortez
Willie Joseph
Ada Hill
Kristy Jensen
Wilma Reid
Sheldon
Marian
Constance
Clifton
Alberta
Cornelius
Irene
Hattie
Verna
Chris
Eunice
Wendell
Lora
Myron
Rufus
Ramon
Tommie
Matthew
Georgia
Lamar
Bert
Joey
Douglas
Velma
Eugene
Brandi
Ralph
Charlie
Jan
Guadalupe
Cecil
Ann
Louis
Nina
Robin
Darla
Juan
Angela
Jeffrey
Crystal
Alfredo
Marlon
Bertha
Forrest
Tracey
Evan
Ernestine
Fred
Karl
Darren
Wilbur
Antonia
Emilio
Martha
Elena
Esther
Beatrice
Carlos
Kelly
Melba
Walter
Stella
Rosemary
Kenneth
Brian
Beverly
Meredith
Rita
Cecelia
Rickey
Isaac
Thomas
Todd
Elaine
Calvin
Kari
Scott
Rene
Daniel
Charlene
Zachary
Micheal
Andrew
Michelle
Tommy
Shelly
Mario
Rosa
Carole
Cathy
Susie
Teri
Kathy
Juanita
Janis
Sandra
Alma
Christy
Lionel
Harry
Louise
Keith
Otis
Joyce
Lois
Jean
Mike
Bobby
Kenny
Sheryl
Tiffany
Dean
Jeremiah
Tammy
Ricky
Nichole
Dale
Desiree
Roxanne
Jake
Sonya
Omar
Pat
Jerald
Stanley
Emily
Ivan
Dixie
Sonja
Theodore
Ella
Edward
Chelsea
Caleb
Jeanne
Rosie
Lyle
Alexandra
Darrel
Travis
Timmy
Gregg
Catherine
Iris
Orville
Lana
Casey
Teresa
Gloria
Cody
Santiago
Spencer
Lindsey
Josephine
Jennifer
Gerardo
Irvin
Belinda
Angie
Guillermo
Mathew
Samuel
Randal
George
Olive
Leslie
Mamie
Milton
Ismael
Lucia
Carlton
Theresa
Debbie
Darrin
Benny
Mercedes
Deborah
Duane
Martin
Daryl
Bennie
Holly
Julian
Lonnie
Sally
Sharon
Audrey
Jesse
Carol
Vernon
Adrian
Joshua
Everett
Moses
Phil
Marvin
Felix
Jeffery
Patti
Alton
Ricardo
Jacquelyn
Craig
Frances
Meghan
Tonya
Jim
Kathryn
Mabel
Tim
Susan
Brent
William
Darrell
Ray
Patty
Tyrone
Annette
Leslie
Paulette
June
Perry
Nathan
Van
Sylvia
Viola
Rudolph
Bethany
Charles
Tony
Allison
Margarita
Joann
Ronnie
Harold
Ashley
Sheila
Ruben
Karen
Kim
Sarah
Abraham
Maria
Jane
Betsy
Lucille
Terri
Lance
Justin
Vickie
Cory
Eva
Opal
Claire
Genevieve
Wilfred
Wallace
Mitchell
Lydia
Kent
Grace
Oscar
Wanda
Johnnie
Melvin
Michael
Aubrey
Inez
Emmett
Colin
Sue
Sandy
Randy
Marjorie
Barbara
Pedro
May
Franklin
Eddie
Roy
Alicia
Steve
Jodi
Yvette
Heidi
Stacy
Troy
Pablo
Elias
Nettie
Melanie
Jenny
Melissa
Ramiro
Daisy
Hubert
Mary
Gerald
Terry
Norman
Angel
Joel
Carla
Rafael
Joan
Marsha
Jon
Norma
Alexis
Austin
Sadie
Nancy
Lee
Gary
Enrique
Sherri
Bryan
Allen
Jaime
Merle
Stewart
Lorene
Delores
Myra
Lynn
Antonio
Cedric
Cameron
Maxine
Gilberto
Dewey
Homer
Della
Peggy
Eleanor
Silvia
Lloyd
Max
Sean
Owen
Leah
Lorraine
Helen
Shannon
Lula
Jennie
Wm
Kurt
Gustavo
Morris
Janice
Jody
Javier
Lynda
Janet
Bridget
Lewis
Jamie
Angel
Hugo
Christopher
Lynette
Faye
Andre
Emma
Candace
Doreen
Denise
Steven
Kristopher
Marcos
Alejandro
Geoffrey
Olga
Margie
Donnie
Ted
Judy
Raul
Shari
Andy
Marion
Marcia
Eileen
Rosemarie
Carl
Leona
Fernando
Marc
Christie
Rose
Laura
Marcella
Edwin
Fredrick
Rachael
Krista
Laurence
Tami
Mattie
Bernadette
Dennis
Clinton
Lila
Mildred
Sidney
Celia
Bessie
Hilda
Pauline
Joanna
Becky
Julius
Frederick
Felipe
Minnie
Michele
Ken
Mandy
Dana
Melody
Kendra
Bernard
Albert
Donald
Gilbert
Taylor
Brooke
Blake
Penny
Darin
Essie
Noel
Tom
Glenn
Marilyn
Seth
Myrtle
Darnell
Edna
Winifred
Debra
Priscilla
Jo
Oliver
Natasha
Cora
Valerie
Ruth
Clara
Ian
Matt
Yvonne
Nicolas
Freddie
Ruby
Willis
Pam
Henrietta
Hope
Shelley
Clay
Bradley
Wayne
Beth
Lucy
Noah
Herbert
Kevin
Toni
Jared
Pamela
Jesus
Madeline
Nadine
Brittany
Ernesto
Randolph
Sara
Terrance
Gordon
Eloise
Kimberly
Grant
Sophie
Ervin
Arthur
Roosevelt
Sherry
Ronald
Billie
Lillie
Heather
Sherman
Manuel
Jose
Dora
Wilson
Bobbie
Terri Aguilar
Ian Lamb
Freda Hanson
Angie Perkins
Natasha Crawford
Alberto Hammond
Mary Daniel
Marcella Phelps
Johnny Evans
Ryan Chavez
Lola Howard
Kate Ward
Randall Herrera
Sheri Cox
Lawrence Anderson
Brent Miller
Georgia Saunders
Robin Williams
Beulah Rhodes
Sonja Nguyen
Vincent Torres
Rosa Pope
Viola Kelley
Elbert Sutton
Tasha Wong
Sonya Hicks
Misty Tran
Miriam Ellis
Rachael Tucker
Leon Murray
Anthony Mccoy
Otis Colon
Diane Miles
Lynn Stephens
Judith Wheeler
Ashley Edwards
Naomi Schwartz
Alvin Gibson
Alan Barton
Claudia Larson
Sophia Hamilton
Nicholas Schmidt
Pete Collier
Brett Norman
Earnest Pena
Jeanne King
Teresa Young
Victoria May
Guadalupe Dunn
Joan Logan
Stella Boone
Allison Mendoza
Judy Massey
Duane Powers
Roland Mendez
Ronnie Flowers
Clinton Ruiz
Samuel Barnes
Tammy Peterson
Adrienne Sanchez
Rose Gregory
Emma Valdez
Iris Cannon
Blanche Mcguire
Clifford Leonard
Rogelio Poole
Gwen Estrada
Darrell Marsh
Fernando Kelly
Eduardo Myers
Melanie Vega
Jessica Sullivan
Penny Graves
Krystal Horton
Fredrick Norris
Joe Lane
Carol Erickson
Mable Jones
Rebecca Lynch
Drew Flores
Nathaniel Salazar
Desiree Reed
Muriel Gardner
Erma Adkins
Angel Kim
Juanita Caldwell
Evelyn Rodriguez
Javier Sherman
Leroy Santiago
Juan Fleming
Larry Bridges
Ivan Cole
Cornelius Mack
Ted Simon
Lila Gonzalez
Manuel Dixon
Matthew Ryan
Don Sharp
Jorge Thornton
Terry Medina
Wayne Washington
Leona Shaw
Everett Carlson
Lee Hardy
Vicki Patrick
Craig Howell
Andrew Martin
Dallas Steele
Pablo Nash
Lois Walsh
Tami Harris
Danielle Phillips
Wilma Owens
Gerardo Wood
Regina Holloway
Danny Ortiz
Caroline Mathis
Jacqueline Dawson
Laverne Day
Sheryl Frazier
Phyllis Mason
Marlon Collins
Jean Norton
Erica Baker
Phillip Nelson
Lorena Scott
Rene French
Tony Rose
Heather Mitchell
Marilyn Mckenzie
Alexandra Greene
Winston Waters
Jermaine Lawson
Christian Castillo
Kelley Allen
Jennifer Obrien
Marcus Terry
Santiago Townsend
Leah Cooper
Pat Doyle
Sherry Wolfe
Kathy Graham
Corey Morgan
Courtney Clarke
Sandra Franklin
Orville Gutierrez
Dianne Lowe
Janis Frank
Carlos Mills
Dominic Singleton
Paula Bell
Antonia Becker
Geoffrey Maldonado
Patrick Conner
Amanda Hubbard
Tyrone Barrett
Flora Hayes
Max Peters
Steven Delgado
May Fernandez
Candace Lawrence
Charles Porter
Brandy Dennis
Herbert Barber
Sonia Stone
Eloise Craig
Stuart Morales
Leo Jimenez
Cecilia Bailey
Peter Higgins
Daniel Black
Wanda Foster
Sharon Beck
Yvette Clark
Violet Wade
Jeremiah Mccarthy
Bruce Griffin
Carrie Nichols
Louise Johnson
Doug Gilbert
Janie Bryan
Terrance Gross
Gail Campbell
Gene Parsons
Raul Blake
Grace Reese
Jessie Newman
Al Curry
Roy Gill
Lorene Wilkerson
Julie Cook
Alma Cross
Andy Robbins
Erick Rodgers
Darlene Bryant
Ken Warren
Cameron Garcia
Dexter Hampton
Philip Castro
Simon Richardson
Joseph Briggs
Rudy Klein
Pamela Ortega
Janice Chandler
Jennie Gray
Molly Rodriquez
Brittany Vargas
Abraham Hogan
Sadie Stokes
Jeffrey Hart
Rickey Hall
Ruben Fox
Clint Hunter
Bill Mckinney
Myron Thompson
Rick Todd
Kristi Wright
Kristina Arnold
Teri Fields
Nadine Griffith
Bob Maxwell
Pat Schultz
Trevor Matthews
Stewart Cobb
Maggie Johnston
Warren Moran
Mandy Roberson
Dewey Mcbride
Cathy Oliver
Matt Silva
Diana Perez
Shelley Yates
Eddie Harrison
Jodi Mccormick
Emanuel Christensen
Delores Roberts
Mildred Weber
Jack Holmes
Louis Marshall
Sheila Diaz
Julio Bush
Dianna Harvey
Salvador Keller
Anita Abbott
Latoya Rowe
Woodrow Morton
Brian Coleman
Glenda Fowler
Austin Williamson
Alexander Patterson
Hilda Carroll
Tommie Cummings
Christine Hines
Linda Austin
Mabel Bowman
Jeffery Hill
Shawna Pratt
Kenny Ray
Wallace Jackson
Rex Davidson
Terrell Allison
Omar Butler
Floyd Reynolds
Dale Hoffman
Wilfred Thomas
Deanna Strickland
Leigh Hughes
Alonzo Chapman
Chad Huff
Elsa Manning
Carolyn Carpenter
Malcolm Holt
Neil Taylor
Lauren Smith
Tiffany Holland
Mario Carson
Randy Soto
Ada Moore
Mike Moss
Beatrice Jefferson
Alice Willis
Barry Padilla
Oliver Armstrong
Jordan Mclaughlin
Perry Berry
Rosalie Love
Shannon Osborne
Glenn Bass
Dwayne Ramirez
Toby Owen
Agnes Garner
Guadalupe Pearson
Lori Casey
Melinda Perry
Aubrey Martinez
Antoinette Glover
Ernest Alvarado
Harriet Olson
Charlene Carter
Candice Guerrero
Alejandro Montgomery
Bradley Simpson
Theresa Copeland
Jessie Bradley
Estelle Boyd
Sabrina Mullins
Martha Hunt
Troy Ballard
Nicole Duncan
Angelica Long
Wilbur Sandoval
George Morris
Archie Park
Crystal Wise
Jake Lloyd
Darrel Swanson
Mathew Murphy
Marvin Rivera
Merle Lucas
William Snyder
Essie Adams
Mona Ball
Jeff Brown
Courtney Parks
Shane Luna
Dana Banks
Roxanne Richards
Byron Malone
Joann Rice
Tracey Gonzales
Paulette Mcdaniel
Shirley Fletcher
Irving Hernandez
Lorenzo Guzman
Douglas Green
Tamara Little
Casey Goodman
Jody Nunez
Sherman Cruz
Wendy West
Edith Lee
Vicky Burgess
Sergio Schneider
Cecelia Hale
Dixie Ford
James Francis
Irene Welch
Domingo Newton
Brendan Morrison
Robert Palmer
Tabitha James
Jerry Lyons
Carla Cortez
Monica Sims
Arnold Reyes
Joel Hopkins
Wendell Russell
Donald Potter
Winifred Tate
Wade Vasquez
Garrett Wilson
Traci Walters
Cynthia Roy
Rodolfo Woods
Stephanie Daniels
Kerry Harper
Lyle Haynes
Florence Lopez
Jean Gomez
Isabel Shelton
Shari Patton
Van Riley
Susie Quinn
Francis Moreno
Maurice Brock
Ralph Wagner
Olive Santos
Wilson Alexander
Rosie Garrett
Curtis Wilkins
Delia Gibbs
Brenda Watts
Tara Rios
Harold Grant
Meghan Mann
Gloria Barker
Laurie Zimmerman
Russell Stanley
Kristopher Henderson
Laura Barnett
Dora Elliott
Charlotte Pierce
Dennis Carr
Melvin Brewer
Jacob Hudson
Delbert Payne
Roberto Wells
Christie Romero
Ollie George
Robin Bates
Elmer Davis
Kari Harmon
Olga Moody
Nick Hawkins
Ann Watson
Hattie Rogers
Joanne Robinson
Horace Ross
Marian Watkins
Gertrude Wallace
Lana Buchanan
Bryant Farmer
Jared Lewis
Bernard Goodwin
Sheldon Pittman
Joy Neal
Clara Gordon
Sara Hodges
Becky Jordan
Jesus Lambert
Lynne Sanders
Kenneth Ramos
Morris Knight
Marcos Kennedy
Elizabeth Ingram
Elvira Alvarez
Travis Greer
Darryl Jacobs
Bobby Powell
Alicia Reeves
Sylvia Underwood
Martin Ramsey
Steve Fitzgerald
Sammy Cohen
Ray Garza
Lynn Stevenson
Saul Hansen
Alexis Drake
Janet Walker
Kim Figueroa
Jose Warner
Edwin Blair
Maxine Andrews
Roosevelt Spencer
Faye Brooks
Karl Turner
Clyde Price
Virginia Webster
Roger Robertson
Maria Bowen
Marie Fisher
Randal Joseph
Camille Harrington
Clayton Cain
Vickie Sparks
Vanessa Tyler
Kara Munoz
Meredith Byrd
Willard Fuller
Eunice Jennings
Rafael Henry
Kimberly Chambers
Nelson Floyd
Margaret Clayton
Calvin Burke
Minnie White
Gayle Houston
June Cunningham
Cheryl Mcgee
Jane Reid
Chester Douglas
Lowell Dean
Carole Stewart
Billie Burton
Anne Ferguson
Mark Stevens
Ernestine Weaver
Christina Mcdonald
Keith Simmons
Terence Baldwin
Carroll Lindsey
Carl Jensen
Hannah Freeman
Marco Page
Hope Brady
Kelly Bennett
Sally Summers
Bonnie Meyer
Mamie Webb
Kim Walton
Joey Burns
Alfredo Jenkins
Grant Parker
Freddie Paul
Johnnie Curtis
Vivian Vaughn
Harvey Bowers
Jacquelyn Benson
David Bishop
Jonathan
Elease Shrader
Elise Creech
Antonina Small
Evan Samples
Flossie Bartley
Cherie Crowell
Luis Ramey
Heidy Sell
Lavinia Dubois
Jong Roby
Julio Lerner
Minna Meier
Nanette Burley
Lorrie Kimball
Chas Stauffer
Jeneva Barone
Florene Kaminski
Jamel Delossantos
Evelyne Rossi
Domenic Fahey
Kandi Guenther
Christin Dougherty
Cliff Gould
Garfield Lombardi
Caroyln Beam
Linn Rubin
Vanna Corbin
Beula Chalmers
Micheline Mast
Jayson Navarro
Carolee Gurley
Talia Seibert
Elza Becerra
Novella Wetzel
Sook Tracy
Rosaria Katz
Myriam Redmond
Carmelia Carmona
Jaquelyn Wofford
Kecia Homan
Jeana Canales
Kassandra Anglin
Morgan Stillwell
Juan Snodgrass
Bernadine Coppola
Stephine Pleasant
Robby Taber
Corey Goebel
Jannie Salcedo
Martine Pagan
Delcie Flanagan
Jere Alderman
Heide Willey
Loren Vaught
Shawanda Grossman
Norah Downs
Alayna Laird
Trent Lamar
Myrtis Person
Dwana Herman
Ezequiel Crowder
Sherlene Smyth
Barney Burdette
Zandra Poindexter
Pandora Waugh
Jacquetta Mead
Jung Trahan
Danial Wiggins
Corine Field
Tora Kinney
Otilia Cromwell
Tiffani Cagle
Latrice Ashton
Mariela Mahon
Alysa Pressley
Norine Fleck
Imelda Franz
Leena Atwell
Kimberely Guy
Mellie Lovell
Stacy Cecil
Wilton Bravo
Logan Thurman
Lavonda Royal
Stephnie Acosta
Chung Alford
Tana Delatorre
Nan Arredondo
Kimbra Burkholder
Stepanie Bohannon
Elsy Neil
Ronni Youngblood
Danna Noyes
Noma Schott
Paz Bourgeois
Twana Mcwhorter
Merlene Broyles
Lisabeth Whitney
Brock Stamps
Irina Oliveira
Tess Cromer
Aretha Bueno
Noreen Ahrens
Camilla Castellano
Debi Ostrander
Karly Eastman
Sulema Mcintosh
Sharice Arroyo
Tonisha Buford
Luciana Buss
Cinthia Pettigrew
Florencio Tibbetts
Dorthey Boucher
Olen Hickson
Leonel Souza
Gilberte Guinn
Gabriele Ziegler
Joaquina Larkin
Zoila Mata
Stefanie Busch
Lani Naylor
Lynelle Hutto
Hettie Finnegan
Hilaria Hadden
Rolland Majors
Mathilda Kinsey
Luana Bunnell
Keva Fink
Nicholle Espinoza
Catherin Keen
Sherilyn Scarborough
Houston Burge
Sharleen Furr
Becki Paige
Ute Deal
Lizzette Mcdermott
Marquerite Shay
Adriane Ryder
Bobbye Self
Hwa Bannister
Lawerence Poirier
Dominga Villareal
Mitzi Light
Jules Sosa
Eneida Gorman
Shaquita Perryman
Jena Roney
Cristine Bolduc
Marva Braxton
Magaly Espinal
Sha Dalton
Amee Aaron
Deirdre Schiller
Tuyet Hagan
Rolf Swan
Carlee Wesley
Nida Faison
Aracelis Pennell
Merri Crane
Voncile Troy
Susana Peoples
Ellan Andrus
Eugene Shelby
Lindsay Branham
Renetta Moffett
Tama Mcdowell
Jaymie Gist
Cordia Loy
Caryn Conklin
Myrna Milliken
Ena Wiles
Stanton Mcafee
Joselyn Moen
Lonnie Carnahan
Angele Ferrell
Hildred Judd
Estella Kang
Norberto Bartlett
Evita Trejo
Kristofer Fitch
Carolyne Huynh
Denny Maynard
Suzi Prentice
Karon Rocha
Raye Scully
Lelah Wampler
Aleen Cornell
Russel Hanks
Euna Littlefield
Conception Lessard
Taneka Leary
Leilani Patten
Claretha Talley
Scarlett Lerma
Felipa Calvert
Serina Archibald
Beata Emanuel
Latashia Upshaw
Chun Kelso
Rubye Shumate
Kacy Ives
Keshia Melvin
Ngoc Tillery
Horacio Stallings
Abdul Carbajal
Rico Frantz
Chieko Dykes
Royal Colby
Enola Huntley
Nu Mcnamara
Perry Sigler
Ehtel Shin
Ezra Merrick
Loyce Ashe
Enriqueta Schilling
Mitchell Law
Bronwyn Sauer
Paulina Valenti
Necole Quarles
Rufina Mayberry
Georgiana Lemieux
Bernarda Whelan
Soila Beaulieu
Nidia Bisson
Kyle Story
Branden Curley
Maribeth Cabral
Marine Golden
Ossie Grier
Maranda Lorenz
Nella Hinton
Min Ernst
Josephina Bull
Charlott Beane
Junior Castaneda
Alex Ingle
Sherita Heffner
Abe Alcorn
Laila Reeder
Titus Feldman
Karl Starnes
Ozell Woodward
Dion Landrum
Kelsey Peeler
Monserrate Roper
Stephenie Bowie
Wava Lara
Kenia Easterling
Sherlyn Coronado
Wynell Minor
Major Goode
Jesus Shepard
Laveta Ayers
Tony Brinkman
Joannie Bain
Antoine Montes
Lorelei Sawyer
Kris Howland
Lakeesha Morrow
Tifany Siler
Callie Romo
Deidra Berryman
Mozell Behrens
Stephane Wilkes
Amalia Robb
Dorothea Woodley
Corina Kahn
Pearlene Baxley
Mayola Salcido
Herb Mccloud
Tonda Harley
Steffanie Coburn
Jimmy Denton
Arlen Houck
Tenisha Cheung
Cassaundra Kenyon
Laci Putman
Dyan Mattson
Jacinda Reaves
Yesenia Scherer
Delois Hogue
Lorinda Ferry
Majorie Loyd
Rona Agnew
Bette Rawls
Sherie Greenberg
Carma Rinehart
Mac Lockett
Cassey Barclay
Deeann Lattimore
Jamee Rayburn
Sandee Pantoja
Ocie Herbert
Danette Aguilera
Vonnie Proctor
Louie Major
Zada Denny
Kelsi Southern
Heike Nieves
Cruz Matlock
Yasmin Lawton
Alona Logue
Amira Gregg
Ruthanne Thibodeaux
Inge Burney
Lorna Bolt
Alise Kemper
Selina Bedard
Mardell Lutz
Lorri Short
Mireille Buckner
Lino Mosier
Emmy Hand
Joette Negrete
Shantae Thames
Thomasena Mattison
Julietta Marble
Laraine Sturgeon
Ona Meador
Kattie House
Eldora Reich
Vern Steen
Verdell Patel
Lynetta Lash
Qiana Clem
Krysten Lord
Micah Xiong
Jeromy Christenson
Berna Luckett
Kimber Mesa
Lizbeth Pitt
Marivel Kaye
Arlyne Logsdon
Glennis Jameson
Rachele Meade
Fermina Kent
Arletha Dion
Jovan Yi
Dalene Lawler
Miles Pendleton
Kallie Winston
Eloisa Lafleur
Mitsue Everhart
Tyra Aguirre
Lesli Rich
Katharina Browning
Shanta Blanton
Krystin Skelton
Roseann Tomlinson
Yen Kessler
Brandon Wiseman
Gertha Lapointe
Shonna Beebe
Senaida Labbe
Tomoko Markham
Haywood Strain
Shayna Paulsen
Giovanna Belanger
Ione Purdy
Marlo Ledoux
Jewell Stuart
Damaris Davies
Nadene Antonio
Booker Barrios
Akilah Schweitzer
Ileen Herzog
Laurence Click
Larry Nix
Jon Cooke
Holli Birch
Calista Lopes
Charlette Mullen
Kris Raymond
Irwin Holcombe
Jarrett Handy
Jamal Gagnon
Francine Engle
Luvenia Kitchen
Denis Mccaskill
Deloras Mcpherson
Layla Hackney
Alvaro Breeden
An Romano
Kayleen Hawk
Gavin Carden
Chang Fairbanks
Dahlia Leger
Olympia Ewing
Magda Willson
Gerald Welker
Fernande Griffiths
Grayce Whaley
Coleen Barba
Carlita Mcginnis
Palma Pease
Sunny Herndon
Ester Hindman
Elisha Shank
Ariel Janes
Debera Loper
Carlotta Blunt
Siobhan Mendenhall
Leif Galloway
Danyel Huntington
Adell Queen
Eura Hope
Wendolyn Binkley
Lanny Runyan
Ward Block
Sommer Ring
Antonietta Flagg
Kathrine Wheatley
Kizzy Brito
Aletha Baptiste
Lai Slaughter
Suellen Campos
Gail Avalos
Ula Cheney
Quinn Wenzel
Buck Montague
Darcie Koenig
Yong Linville
Albertina Mccallister
Denisha Caudle
Lacey Basham
Penney Ott
Misha Marrero
Karin Mintz
Heriberto Street
Willodean Sales
Bernardo Keeton
Rossie Arellano
Ilana Lehman
Caroll Christy
Lona Burnham
Lester Tavares
Nenita Kiefer
Oralia Packer
Otelia Hauser
Otha Knowles
Ashton Duval
Chery Dover
Connie Emmons
Wan Pitts
Abigail Janssen
Beaulah Guillen
Audrea Mace
Lilliam Beauregard
Tawana Rivers
Silva Glenn
Kasi Canady
Luci Coe
Kerstin Merrill
Marg Le
Buster Woodard
Donita Rader
Dylan Giroux
Douglass Weatherly
Ying Streeter
Gonzalo Guess
Carmine Baer
Sima Gaddy
Shonta Lin
Starr Vinson
Aleshia Zook
Tiffiny Velasquez
Iona Fort
Ashli Shannon
Renda Wingfield
Reanna Church
Queen Garnett
Eliana Monk
Corene Guajardo
Synthia Rupp
Jason Mcmahon
Jonnie Dowling
Gary Peel
Isadora Beckett
Shon Blanchard
Filomena Olsen
Malena Culbertson
Elnora Baird
Lorine Alley
Catheryn Beale
Martina Peterman
Antony Plummer
Marquitta Perales
Hallie Adamson
Queenie Beach
Torri Oaks
Maryanne Knox
Adrianne Sargent
Alphonse Farnsworth
Milly Neumann
Lindsy Cowan
Stevie Valdes
Ozie Frye
Lizette York
Sirena Mcduffie
Svetlana Satterfield
Barrett Clanton
Gerry Lance
Tobias Bravo
Nickole Leeper
Deeanna Lattimore
Veta Kendall
Harriette Sena
Lily Frasier
Shandi Varela
Lilli Warfield
Shona Blythe
Demetria Lindgren
Joette Goldsmith
Teofila Gunn
Tena Grogan
Julee Meredith
Cordie Lacey
Rhona Mccann
Magali Mckeever
Rhiannon Pederson
Luisa Rupp
Rosario Burden
Bettye Shipman
Emilee Falls
Jarrod Ocasio
Billy Kemper
Pandora Pulley
Taunya Dailey
Huey Boggs
Douglass Chisolm
Harmony Hailey
Theresia Schuster
Stefanie Tiller
Thomasina Estrella
Terina Dugan
Dagmar Gaines
Modesto Luttrell
Eliza Callaway
Lissa Croft
Mitsue Rigsby
Seema Bustamante
Krystina Maguire
Carmella Redd
Mallie Hibbard
Devona Hewitt
Kiara Stein
Allie Irvin
Marianela Lovell
Arie Wren
Melisa Rhea
Junita Shoemaker
Vince Busby
Kalyn Raines
Un Spear
Kenyetta Stpierre
Rosamaria Herring
Nova Asher
Malorie Parrish
Ludivina Dupuis
Desire Foret
Lavenia Rush
Rosalee Hooper
Ocie Shackelford
Harriett Mcnair
Lawanda Ruby
Selma Johns
Tambra Shultz
Elliott Ring
Maye Mcneal
Yen Cotter
Donita Carbone
Emely Silverman
Russel Phan
Exie Stacey
Linn Mcgehee
Rosalina Bean
Pia Fortin
Loreta Elkins
Eugene Mclain
Shante Irizarry
Dorsey Freund
Hilde Worrell
Araceli Amador
Loan Dugger
Neville Gatlin
Wilhemina Galloway
Arianne Nunley
Alanna Pak
Walter Meza
Arlean Havens
Jeni Knowlton
Jimmie Hurley
Glynda Mattox
Xiomara Castleberry
Jodie Burt
Melany Pickens
Destiny Gaskin
Leonor Kohler
Luise Nadeau
Aleta Deal
Quintin Cherry
Larisa Knapp
Alisha Gates
Shanika Nieves
Brendon Escalante
Sau Reinhardt
Deann Bach
Jeanetta Horn
Shondra Pinkerton
Ka Roark
Genevie Thibodeaux
Amiee Sewell
Dani Goldman
Hilma Lowery
Michel Hidalgo
Felton Pennington
Estella Mccartney
Lucila Head
Treva Moe
Melina Muse
Fausto Lehmann
Hillary Broadway
Hulda Tenney
Eneida Redden
Barbera Hendrix
Jewel Utley
Emile East
Ethelyn Joiner
Ali Aldrich
Vivienne Klinger
Ceola Liu
Debora Fogle
Coreen Derr
Risa Kline
Annalisa Mulligan
Enoch Davenport
Kacy Hickman
Luetta Leahy
Myriam Hudgens
Rolande Mintz
Annabell Zimmer
Dayna Shifflett
Leon Billiot
Marline Raymond
Corinna Lake
Carson Mccall
Corrinne Dunham
Antoine Tirado
Jann Cecil
Julianne Hamby
Sharen Lea
Rosamond Bernstein
Golda Easley
Katy Funk
Armida Kitchen
Merry Ulrich
Brain Townes
Amado Goss
Neomi Askew
Michel Mccool
Christena Barbee
Tamiko Whaley
Odelia Carrier
Joellen Finch
Janita Whiting
Jamison Bivins
Dorethea Loving
Margart Sierra
Clyde Elam
Steven Cromwell
Thora Fay
Efrain Read
Brynn August
Man Cervantes
Nikita Spaulding
Chantel Mcvey
Elinor Thatcher
Dannie Cartwright
Carmela Cornell
Shayne Pringle
Anette Bower
Gavin Keating
Lezlie Sturgeon
Alexandria Lemke
Elenore Oneal
Tereasa Garber
Neely Weller
Mikel Bullock
Corey Scoggins
Jonna Birch
Christin Walden
Shameka Yanez
Ashton Beers
Mardell Dotson
Roscoe Hannon
Domitila Crouch
Viviana Holguin
Jeannine Kunkel
Evita Mata
Lavona Duff
Aide Reynoso
Velvet Carlin
Rebeca Hollingsworth
Leoma Tam
Kasey Longo
Odell Bolden
Maximina Monahan
Shelby Regalado
Chasity Armijo
Estell Coe
Lashunda Henley
Izola Roby
Malcom Boudreau
Merrie Moya
Deloras Diehl
Dorian Wilbanks
Fidela Foreman
Shamika Worley
Sabine Merchant
Lauran Groves
Rudolf Bowlin
Scottie Word
Oswaldo Clifford
Corrie Chadwick
Joel Finley
Consuelo Marchand
Idell Goldstein
Raven Leary
Toshiko Andrew
Elene Switzer
Vesta Bonner
Kenyatta England
Elayne Wilmoth
Na Carlisle
Nikki Bradbury
Jessika Gilman
Jc Combs
Travis Duvall
Lawanna Mayers
Augustus Schmitz
Selina Delong
Raymon Brito
Anh Groce
Stacy Peeples
Esmeralda Seifert
Kamala Coombs
Elmira Rafferty
Rossana Ritchie
Zulma Teel
Kristofer Mayes
Brittaney Mcmahan
Lincoln Trudeau
Stacey Hummel
Kathe Tapp
Jacquie Dukes
Jerold Arriaga
Helga Craddock
Sunni Mcgregor
Coleman Redmon
Noella Conti
Jewell Mcduffie
Sherwood Lawton
Edris Goodson
Eufemia Wyatt
Verona Wentz
Floria Hinton
Lucinda Fernandes
Leola Anaya
Laurel Middleton
Judie Marion
Jarod Julian
Debbra Waterman
Donald Reyna
Taneka Gillespie
Mirna Oliveira
Cornell Batchelor
Cassy Bergman
Keren Artis
Alease Keeney
Wilhelmina John
Renda Keys
Cherry Eaton
Aurora Self
Evangeline Medlin
Iesha Rouse
Raeann Coyle
Chaya Berube
Jacqualine Clevenger
Jettie Kelsey
Michiko Crook
Lilliam Hutchens
Annabelle Loera
Octavio Merrick
Ozella Fortenberry
Fay Haskins
Brunilda Carmichael
Malinda Terrell
Matilde Nealy
Joline Bourque
Alexa Blevins
Winnie Greco
Alta Vitale
Marvel Gilmore
Arvilla Crowley
John Littlejohn
Esperanza Grayson
Roseanne Pinkston
Jolynn Slattery
Robena Metz
Margery Larue
Herlinda Sowell
Liane Horsley
Nikole Stratton
Bea Sanborn
Brett Luke
Piper Kimble
Kimber Desantis
Laila Riggins
Lesley Roller
Mica Mccollum
Marcela Seaton
Thanh Schell
Farrah Fraser
Isaias Sample
Theressa Segura
Zora Seymour
Leida Miranda
Brigette Kimmel
Hien Mcfall
Boyce Edge
Hiedi Caraballo
Fabian Kohn
Gabriela Condon
Evelia Moen
Glynis Callender
Elizabet Maxey
Jada Thorpe
Rosetta Osburn
Erinn Bouchard
Jennette Gomes
Stevie Marx
Bobbye London
Clementina Morrill
Curt Hanes
Amparo Libby
Fernanda Pounds
Markita Frierson
Tawanda Conyers
Brice Dowd
Marquerite Everett
Silva Reno
Bulah Turley
Trisha Pagan
Marine Luciano
Nicky Grigsby
Dong Berrios
Janyce Moreau
Charlie Houghton
Jacalyn Monroe
Randell Isaac
Michale Baptiste
Stephane Shelby
Merideth Hackett
Nakita Mcgraw
Aurelio Ricci
Loraine Sosa
Stacee Westbrook
Kasey Short
Cassidy Matthew
Bennett Prince
Rina Reaves
Raymonde Sweat
Marshall Calhoun
Dionna Fry
Beatriz Brogan
Ima Nelms
Elisha Barney
Mary Gladden
Aurore Fortune
Etsuko Barry
Gil Newell
Rema Ma
Tommy Patino
Palmira Labbe
Theo Mcdowell
Bobbi Crouse
Elsy Prosser
Cythia Toler
Mari Merrill
Katelyn Brill
Kareen Majors
Meri Coffin
Korey Kellum
Wilford Gossett
Jacquelynn Sheridan
Raphael Keefe
Hwa Hatfield
Iraida Purnell
Lorri Leclair
Ewa Herbert
Vaughn Schubert
Lai Murdock
Yoshiko Cagle
Rocky Markley
Ellyn Hutcheson
Alita Cormier
Suzy Parr
Hyman Lachance
Rayford Clemmons
Tamela Peterman
Margot Hartwell
Delisa Woodson
Marti Soria
Delphine Tibbetts
Marylee Demarco
Mohamed Trinidad
Regenia Quezada
Marilu Horowitz
Maryam Doss
Kimiko Singh
Jessia Lima
Tameika Bedard
Maida Daugherty
Timika Ames
Louie Harlan
Paris Zeller
Cheryle Farnsworth
Chin Raynor
Emory Reeder
Tama Vaught
Jospeh Coats
Cheyenne Geary
Fleta Garrison
Adrien Harry
Arminda Tierney
Tashina Kinard
Helene Mckinley
Jaquelyn Ivory
Nella Posey
Anibal Crocker
Willette Shafer
Mariana Dahl
Marcie Edgar
Horacio Aldridge
Londa Rawlins
Dominque Dang
Karina Weldon
Carmina Nesmith
Sha Dees
Louis Fitch
Jenine Salley
Elnora Stjohn
Janell Mccarter
Eldon Mosley
Sherron Billings
Shirely Chong
Marcelino Cooke
Renae Jacobsen
Shirlene Naquin
Stephania Branham
Shawana Stern
Yee Aleman
Aida Simonson
Buena Staples
Madalene Aquino
Alexis Coronado
Sindy Goble
Sierra Gerber
Amira Edward
Eladia Crayton
Hannelore Nielson
Gertrudis Lancaster
Karma Omalley
Iola Siler
Cris Redman
Damion Royster
Boris Gist
Carma Call
Ilda Romo
Eric Francois
Vernon Gipson
Karoline Hartley
Ona Borrego
Emelda Talbott
Joanie Bourgeois
Suzette Belanger
Tiffiny Cota
Hang Barbosa
Robbyn Muhammad
Vivien Cabral
Scot Mundy
Luciano Dewey
Cassondra Fountain
Lavina Woodcock
Oleta Mattson
Elda Noel
Sandi Villanueva
Louie Fahey
Kenya Gilliam
Takako Catron
Les commentaires sont en dessous de la publicité
👇👇👇👇👇👇👇👇👇👇👇👇👇👇👇👇👇👇👇
Cours de math : il réussit une division par zéro et se retrouve en retenue
Dans la série « il ne savait pas que c'était impossible alors il l'a fait », un jeune étudiant japonais a réussi une division par zéro alors même que les mathématiciens pensaient que cela aboutirait à des contresens mathématiques.
Malheureusement pour le jeune garçon, cela n'a pas du tout plu à son professeur qui a décidé de le mettre en retenue et a prévenu ses parents ainsi que la direction.
L'élève quant à lui déclare qu'il ne comprend pas décision du professeur et qu'il compte bien recommencer.
À suivre donc.
Les commentaires sont en dessous de la publicité
👇👇👇👇👇👇👇👇👇👇👇👇👇👇👇👇👇👇👇
Le Convoi de la liberté en direction de Kiev : un beau succès d'après les organisateurs
Selon les plans annoncés sur des groupes Facebook, le mouvement devrait agréger plusieurs convois. Les manifestants des villes les plus proches de Kiev, partiront de Biélorussie. Le lendemain, ceux de « villes à distance intermédiaire », à l'instar de Donetsk partiront de la frontière russe. Objectif : une arrivée simultanée à la capitale Ukrainienne « pour une soirée de partage et de convivialité avec la solidarité citoyenne ».
Les commentaires sont en dessous de la publicité
👇👇👇👇👇👇👇👇👇👇👇👇👇👇👇👇👇👇👇
Covid-19: Donald Trump suggère la pose de filtres sur le mur séparant son pays avec le Mexique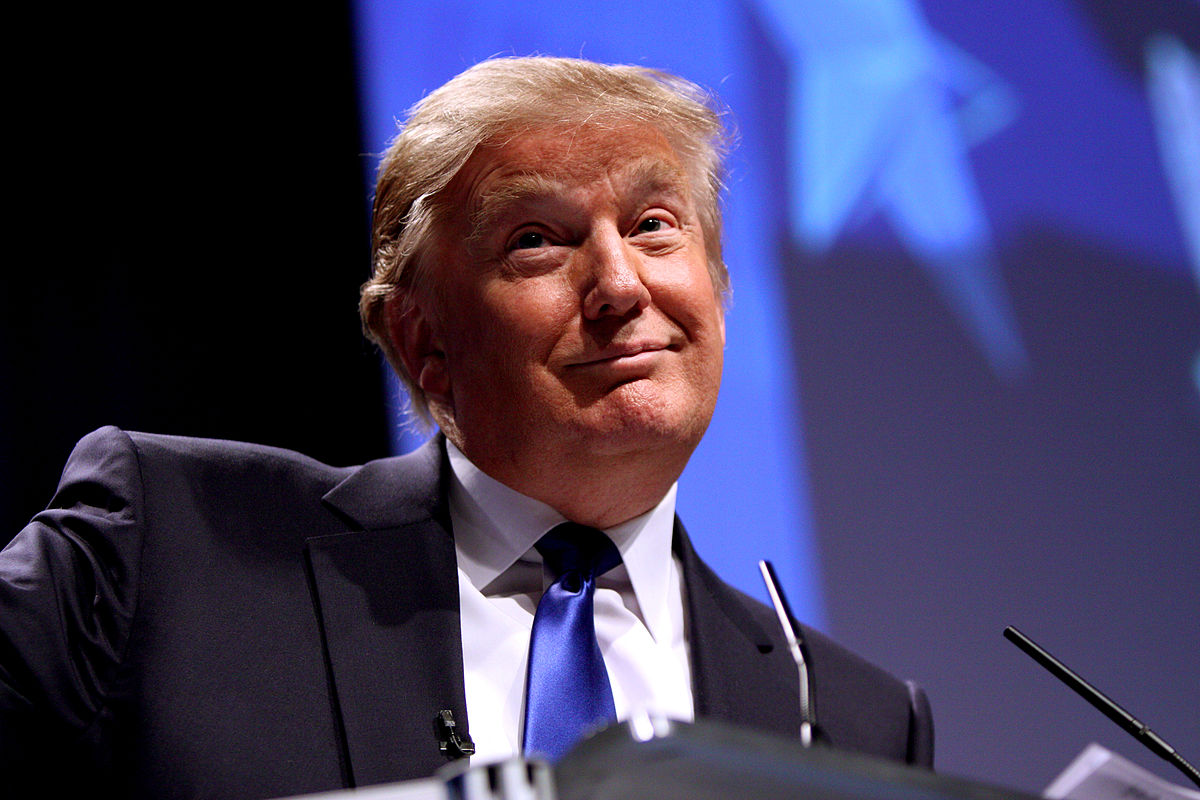 Le président américain Donald Trump continue décidément de faire parler de lui durant cette crise sanitaire causée par le Covid-19. La dernière polémique en date, lors de son dernier discours électoral à Winnipeg, dans le Dakota du Nord, fait état de la pose de filtres sur le mur séparant les Etats-Unis du Mexique, dans le but « d'empêcher le virus de passer la frontière ». Une annonce qui a provoqué les applaudissements de certains, mais aussi et surtout, à nouveau, une majorité de moqueries et de détournements sur les réseaux sociaux. D'autre part, de nombreux scientifiques ont jugé cette mesure « ridicule », à l'exception du docteur d'originaire vietnamienne Phil Tre, jugeant lui que la pose de ces filtres éviterait une remontée du virus dans l'hémisphère nord. Néanmoins, il semble assez improbable que cette proposition puisse voir le jour.
Les commentaires sont en dessous de la publicité
👇👇👇👇👇👇👇👇👇👇👇👇👇👇👇👇👇👇👇