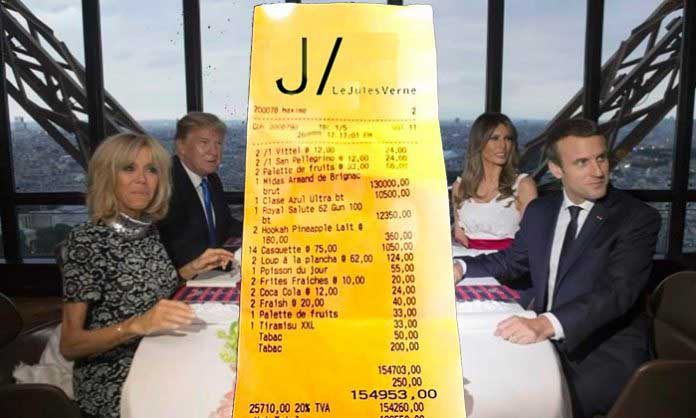 The French President and the American President, accompanied by their wives, spent the evening at the Jules Verne restaurant on the second floor of the Eiffel Tower.
They were able to admire the most beautiful Parisian monuments. On the menu side, few details were able to filter. What we know is that the French terroir has been put forward with products 100% tricolor.
On the other hand, we were able to get hold of the incredible addition of this « dinner of friends » between the Macron and the Trump at the Eiffel Tower. And you're not going to believe your eyes, either we did not believe it at first and had to watch the bill several times to make sure it was real.
154953 € is this really the sum necessary to strengthen the Franco-American relations in this restaurant? We leave you alone to judge the content of the bill, which shows a veritable feast and an orgy of alcohol, all thanks to the purse of the French taxpayers.
Emmanuel Macron explained that he would pay the addition of his pocket and not on the account of the French State.
Caps are purchases from the couple Trump for their family. The quantity of Midas Armand de Brignac is 30 liters and would have been shared with the entire communication team of Emmanuel Macron and the security team of Donald Trump, which relativise this expensive purchase.
Les commentaires sont juste en dessous de la publicité:
Commentaires